10 Best Places to Visit in Delhi for Your Next Trip
Best Places to Visit in Delhi: Overview
Delhi, the capital of our country with a ginormous population of 18.6 million (that is by the way greater than the population of Australia) lures travellers from around the globe with its diverse nature. From culture rich beautiful attractions to the colonial-era parliament buildings to skyscraping offices and glitzy malls, it has everything that your travel fanatic soul craves.
This pulsating metropolis has so many places that are sure to give you unforgettable moments and inspiring experiences, so here is a list of 10 great places for you to explore on your next trip to Delhi. These can be called as the Best Places to Visit in Delhi or the best Tourist Attractions.
10 Best Places to Visit in Delhi: Top Tourist Attractions
1- INDIA GATE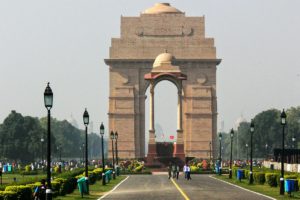 Everyone knows of the glorious India Gate! This war memorial serves as a perfect picnic spot for hundreds of people everyday, the beautiful fountains across the place just add up to the coziness. The best time to visit is at sunset or at night, the beauty of the place increases with a moonlit sky and a few floodlights. Take a walk there while enjoying ice-cream and you're sure to be mesmerized. So, India Gate comes under one of the Best tourist spots of Delhi.
2- QUTUB MINAR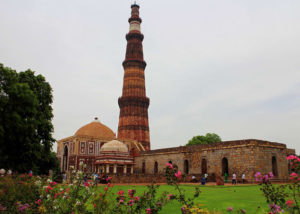 The oldest historical monument in Delhi, this minar is well known for it's enormously tall design securing a place as the second tallest minaret in India. At the foot of the tower stands a mosque which is the first mosque built in India (I bet you didn't know that), so be sure to check that out as well. There's also a 7m iron pillar in the courtyard with a fascinating saying attached to it, I'll leave it on you to find out. So, Qutab Minar was second in our list of 10 Best Places to Visit in Delhi that you must travel.
3- RED FORT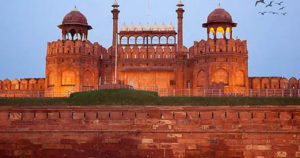 Adding to the list of majestic monuments in Delhi, there is Red Fort. It is one of the UNESCO WORLD HERITAGE SITE. It served as the residence for Mughal Emperors for nearly 200 years. The surviving structures of the fort are its walls and ramparts, the main gates, the audience halls and the imperial apartments.
4-CHANDNI CHOWK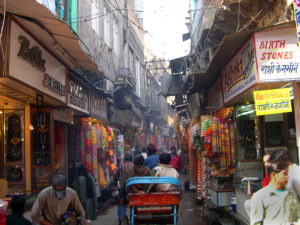 Crisscrossed by narrow streets with shops jostling for space, Chandni Chowk gives a feel of old Delhi shopping. Since the 17th-century era, this places is rightly called a "shoppers paradise" in Delhi.Apart from shopping, this place is equally famous for its eateries, street food, and Indian snacks, Paranthe Wali Gali is one of the most famous eating areas in the market. It also houses many religious buildings like the Gurdwara Sis Ganj Sahib, Jama Masjid, historical mansions.
It has been aptly said for this barrage of noise, colour, and smell, "Are janaab Dilli Aae aur Chandni chowk Nahi Dekha to Kya Dekha?"  🙂  🙂 
It is situated opposite the Red Fort and provides a view of the Fatehpuri Mosque.
5– AKSHARDHAM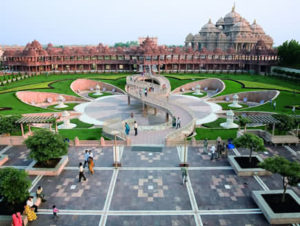 With jaw-dropping architecture, a fascinating fountain show, an informative boat ride, a huge garden, a food court that offers scrumptious dishes and much more, Akshardham attracts more than 70% of all tourists who visit delhi.
There's so much to experience here that it usually takes a whole day to fully enjoy everything.
This should definitely be high on your priority list.
6- NATIONAL GALLERY OF MODERN ART (NGMA)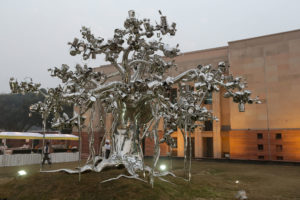 The National Gallery of Modern Art boasts a unique collection of paintings, sculptures, graphics and photographs mainly by Indian and some by international modern artists.You can find the works of Thomas Daniell. Rabindranath Tagore, Gaganendranath Tagore, Nandalal Bose, Abanindranath Tagore, Jamini Roy and Amrita Sher-Gil and others.
So whether you're an art enthusiast or just an admirer, this is a must visit.
The calm and serene atmosphere is sure to purify your soul.
7- AGRASEN KI BAOLI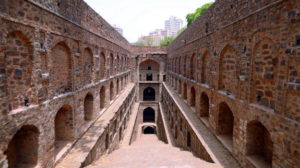 Baoli which means stepwell was constructed in order to preserve water in ancient times. What is special about this Baoli is that it is situated right in the heart of the city, surrounded by tall buildings of Connaught Place. In the crowd, you might spot poets and artists working their magic on paper thanks to the awesomeness of the location.
P.S.- this place is said to be haunted!
8–NIZAMUDDIN DARGAH AND NIZAMUDDIN KI BAOLI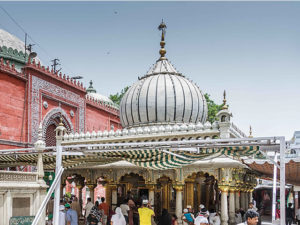 The Dargah is one of the most sacred mausoleums in India. With farsi inscriptions, Namazis and worshippers praying in the Mazar, and Sufi Qawwalis every Thursday, Nizamuddin's Dargah is truly heavenly. The Qawwalis are said to have a special touch. The whole place has a cosy and warm atmosphere, that is sure to generate peace within.
A secret tunnel was discovered by The Aga Khan Trust for Culture and Archaeological Survey of India (ASI) which linked Nizamuddin Dargah to Nizamuddin Ki Baoli. The Baoli has a wooden base and a well which intact even after 800 years. The water of the Baoli is considered holy by pilgrims.
9-INDIA HABITAT CENTRE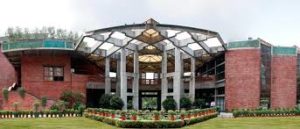 The India Habitat Centre is a multipurpose building in New Delhi, India. Mixing work, commercial and social spaces, the Indian Habitat Centre is India's most comprehensive convention centre.
An open air complex with huge solar panels on the roof, art exhibits in the galleries, yummy foods from the street of India and a good old American breakfast of bacon and eggs, this place gives you a bit of everything. Ever since 2011, the Delhi Photo Festival is held here.
10- CONNAUGHT PLACE, JANPATH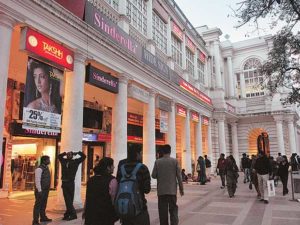 Located in the heart of the city, Connaught Place is a historical structure, a shopper's haven, a foodie's delight, a culture buff's destination. The truth is, Connaught Place, or CP as it is universally known, offers many unique experiences all rolled into one.
you have too many restaurants to choose from! Walk through the corridors of the market to find some low priced trinkets and novels. Shop for branded clothes, footwear, and accessories all that in one big circular market. Get out of the inner circle to walk towards JANPATH market to shop for trendy clothes, jewellery, and showpieces at throwaway prices.
And whenever you are in Connaught place, don't forget to visit these few places-
Bangla Sahib Gurudwara
Central Park
Hanuman Temple
This was all about the 10 Best Places to Visit in Delhi that you must travel if you are planning a holiday with your friends or family members. I am sure you are going to love these places. So, what are you waiting for?? Plan out which place out of these 10 you are going to visit. Do not forget to share with us your favorite place out of these and why you would like to visit it!!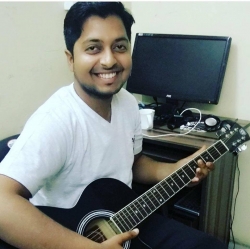 Deepak Kumar is a Teacher, Blogger and an Entrepreneur. He runs an institute and is also the co-founder of xPress Web Solutions, a web solutions company and ikoumerce which is into E-commerce. He has done Computer Science from Delhi University and has 8 years of teaching experience. He teaches various subjects upto XII class and above that also. Blogging is one of his greatest passions. He has other successful blogs in tech and education niche which has a large number of readers and have gained a lot of popularity among blog readers.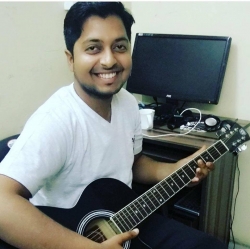 Latest posts by Deepak Kumar (see all)