Everything You Want To Know About the Yuvraj's Retirement form Cricket
Yuvraj Singh, one of the greatest cricketer has decided to retire after 25 years of service.
"The man who won hearts with six 6's to dropping 15 contenders in a single tournament, the first all-rounder to score 300 runs, the man who put his life on risk for the country. The man, who became LEGEN – wait for it – DARY with his extraordinary performance. The man, who served the nation for years. The man, who made the 2000s an era to remember. The man will be missed on the ground."
The Prince who redefined white ball cricket for India. Yuvraj brought dynamism in the fielding, swag in batting and ease in bowling, Yuvraj is truly the Prince of India. Yuvraj Singh has been of the talented batsmen of the Indian cricket team. He has always been known for his quality innings and cheerful personality. He has been a true inspiration, be it on the field or off the field. India has won a lot of games due to Yuvraj's amazing talent and skills. He is a real hero and his fight with Cancer has given immense strength to other patients of Cancer.  He is also one of the players who is honored with Arjuna award and has been declared Man of the Tournament in 2011 ICC Cricket World Cup. Whenever we hear a name Yuvraj, every Indian feels proud because the person he is. He is a true spirit, a true gentleman, real sportsman, a warrior, true fighter, inspiration. He risks his life for his nation.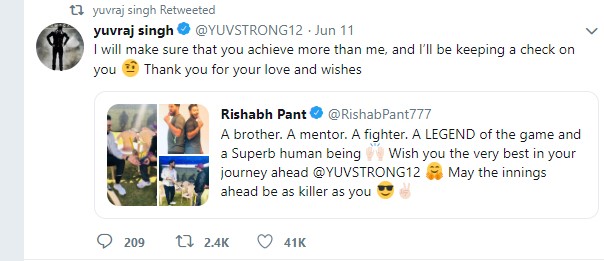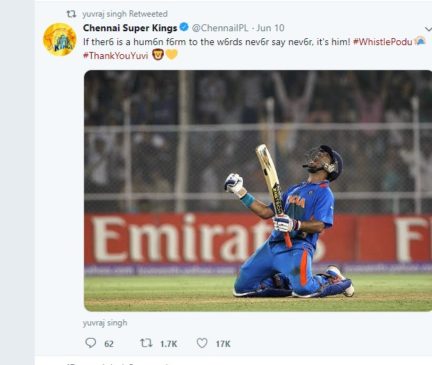 He gave his nation World cup 2007, 2011. He completed the dream of God of cricket(Sachin) by giving him a world cup. He was selected in the Indian team before Dhoni by defeating dhoni. A world-class player. From a bright young talent who made a debut in 2000 to a fighter who battled cancer to make India the World Champions, Yuvraj Singh is one of the finest swash-buckling match-winners to have played cricket. The great Yuvraj Singh has finally decided to hang up his boots. Yes we call him "great" not solely because of the services he has done to Cricket but because of the fact that, he never surrendered inspite of the number of setbacks he had to face.He will go down as one of the finest limited overs cricketers to play this game. He was a live wire on the field at a time when Indian Cricket wasn't known for fielding pyrotechnics. He was our man for the big occasions.
https://youtu.be/j-5re1bjfGM
It's been a day and half since he announced his retirement to the international cricket but we still couldn't believe that he did, It doesn't matter if he's in form or struggling with the bat, People loved watching his game every single time he's walked into the crease. Every milestone he's achieved; could be those man of the tournaments, 6 sixes , fastest 50, throwback 150 and much more.. It's never easy for any batsman in the world to achieve.
<He's the only one player who fought everyone, the opponents, the odds, the situations, and his own self, the inspiration of millions.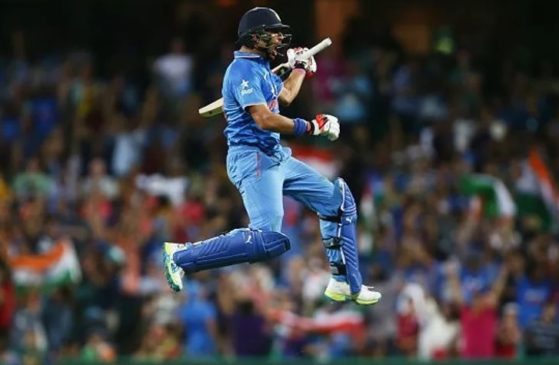 His fluent bat swing, natural playing techniques, and the perfect shot selection ability made him look invincible. He's an excellent batsman, an occasional bowler and an extraordinary human being. He is a warrior and artist who painted several beautiful chapters of life not only for himself but for the entire country, he fought like a warrior in his not so easy childhood and defeated the most life-threatening disease cancer. The colours he has sprinkled in his 37 years of life have not only brightened him and his near ones, rather have brought incredible extravagance to the entire country.
From making it possible to win the Under-15 world cup, U-19 World cup, T-20 World cup, he brought back home 2011 Cricket World Cup home, which was a 28years old dream. Yuvraj bagged the man of the series in above all the tournaments. During the 2011 CWC he was detected with cancer, vomited blood, felt restless still played for the country as the most significant player. Imagine, only a legend in true sense can do this. Yuvraj even made a come back after defeating cancer and people were more than glad to see him bat again. The energy, enthusiasm he have is mind-blowing. People have learned a lot from him and will keep learning. His retirement from the game doesn't mark his retirement from any Indian's heart, people owe him a lot of love and respect.
"It was his decision to retire. Well, he has had a good career. He has won all the major tournaments, a very good accomplishment for him. He has done India proud. A mother can only stand in the back and appreciate his son"
– Shabnam Singh
 "As a wife, it is not my place to tell him what to do. He has my full support on the retirement decision. I did not watch cricket before meeting Yuvi. When Yuvi's cricketing kit arrived in 2014, I saw him crying"
– Hazel Keech
Congratulations on the wonderful career and Thank you so much for giving India the memories and people will adore all of their life as true Indians. All the best from all Indians to you. These words are certainly not enough to express what we all feel from within.
Buzzarenas salutes this cricketing gem and wishes him all the best for his innings off the field.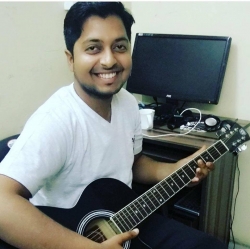 Deepak Kumar is a Teacher, Blogger and an Entrepreneur. He runs an institute and is also the co-founder of xPress Web Solutions, a web solutions company and ikoumerce which is into E-commerce. He has done Computer Science from Delhi University and has 8 years of teaching experience. He teaches various subjects upto XII class and above that also. Blogging is one of his greatest passions. He has other successful blogs in tech and education niche which has a large number of readers and have gained a lot of popularity among blog readers.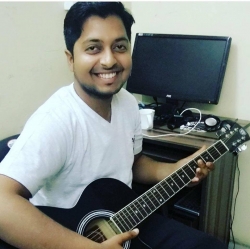 Latest posts by Deepak Kumar (see all)