Easy Modak Recipes for Ganpati Festival
Lord Ganesha is the most prominently featured in the Hindu pantheon and is the lord of things and is revered first in the relation before all others, this day marks his birth anniversary, Hindus across states in India rejoice the occasion with his favourite snack that he is known to love and this and depicted holding the Modak. Ganesh Chaturthi is one of the most loved festivals amongst all the other Indian festivals and one of our personal favourites.
Celebrated Across all religions, this ten-days festival brings in so much positivity unlike any other. Everyone has their one weakness so Lord Ganesh has also a weakness of modaks. Modak or laddoo is considered to be the favourite dessert of lord Ganesh. It is usually the size of normal laddoo. Ganesh Chaturthi is always incomplete without the modaks. It is an authentic Maharashtrian dessert. So we are presenting the recipe of fresh lip smacking Modak on the occasion of Ganesh Chaturthi. Moulding for shaping modak is pure joy they are the best when they are handmade it requires a lot of practice and patience. We are presenting the best three modaks recipes to you all to try out this Ganesh festival.
Also Check: How To Make Italian Pizza At Home
Recipe 1 : Suji – Coconut Modaks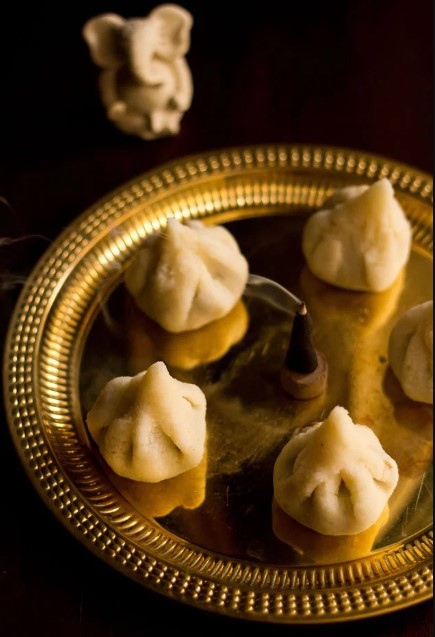 Below we have shared the ingredients and the recipe for Suzi Modaks.
Ingredients for Modaks :
½ cup Semolina
1 cup Desiccated Coconut
1 ½ cup Milk
¾ cup Sugar
½ tea-spoon Cardamom Powder
2 table-spoon Pistachio
2 table-spoon Cashew
Method to make modaks –
In a heated pan add 2 tablespoon of purified butter. Roast ½ cup of semolina till it becomes aromatic.
Add 1 cup of Desiccated coconut to it and roast for a minute.
Add 1 ½ cup of milk and cook it for around 5 minutes. Put ½ cup sugar and ¼ cup milk powder and cook this mixture till all the sugar dissolves.
Let the mixture cool down completely. Knead this mixture to make a soft dough out of it.
Take all the dry fruits, cut it into pieces and combine it with the cooked mixture.
Line this mixture in a modak mold and stuff dry fruits mixture in the middle of it.
Demold it and Rava coconut modak are ready.
Recipe 2 – Steamed Modaks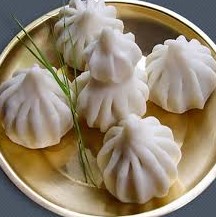 These traditional modak can be made using finely ground rice flour which is kneaded into a dough that forms the outer shell and are stuffed with mouth watering filling of grated coconut, jaggery, poppy seeds, cardamom powder few pounded nuts like cashew nut albums and lastly steamed in a vessel for few minutes smell this modaks with lots of ghee and devour then this Ganpati festival.
Ingredients needed:
1 ½ cup rice flour
¼ tsp butter
¼ tsp salt
½ cup grated coconut
¾ cup jaggery
1 pinch of elaichi powder
Method:
Make the dough!
1. Take 1 ¼ cup water, add salt and 1 tsp ghee in a pan, mix well and boil.
2. Add rice flour to it, mix well and remove from the flame.
3. Let it rest for 10-15 mins, knead the mix into a soft dough and keep it aside.
Make the stuffing!
1. Sautee the grated coconut and jaggery in a pan till coconut turns brownish and jaggery dissolves.
2. Add elaichi powder, mix it well and remove it from the flame.
Put it together!
1. Take a small part of the dough and shape it into a circle using greased palms.
2. Now place a generous amount of stuffing in the centre. Close the dough around the stuffing by pinching it into petals.
3. Steam the modaks in a steamer for 10-15 minutes.
4. Serve with desi ghee… And love!
Must read: Easy Recipe for Dhokla
Recipe 3 – Chocolate Modaks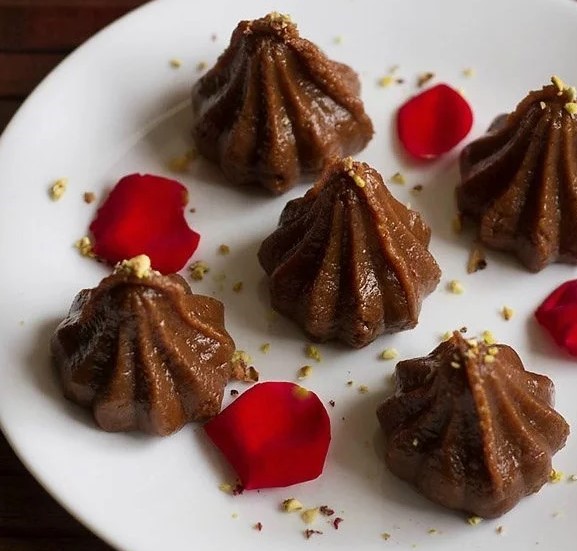 so, now we will show you how to make Chocolate Modaks at home. On the occasion of Ganesh Chaturthi, we bring you the most unique and easy recipe your kids would love to have. Modaks are of various types, Mawa modak, sooji-coconut modak, Udachike and many more. Among all the modaks, chocolate modaks are very popular nowadays.
Ingredients for Chocolate Modaks
1/3rd cup milk
1/3rd Condensed milk
3/4th cup Semi sweet or dark chocolate chips.
1/4th cup Digestive biscuits crumbs
1/4th cup chopped pistachios
2 table spoon ghee
Method – How to make Chocolate Modaks at home
Heat the pan. Add some ghee, 1/3rd cup milk, 3/4th cup chocolate chips and 1/3rd cup condensed milk and heat it to medium to low flame for few minutes.
Mix it well with the help of spatula and once the chocolate chips start melting, keep stirring continuously to avoid lumps and burning.
Once it melts down completely, it will turn into a smooth paste. Then add biscuits crumbs to it and start mixing it slowly and turn off the flame.
Add the pistachios in it and mix it well. Dough will form with some sticky texture.
Keep it aside for 15-20 minutes and let it cool down at a room temperature.
Now apply some ghee in your fingers as well as the modak moulds. Add the generous amount of dough in a mould to form modak. Demould the modaks and serve it
So, these were the simple Modak Recipes that you can try at your home. We will bring more such useful food recipes. Stay tuned with Buzzarenas and if you want a recipe of your favourite food products you can tell us in the comments section below. Connect with us on Facebook.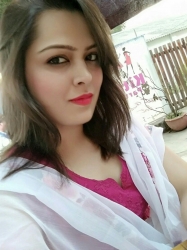 Priyanka is a stock investor and trader from Madhya Pradesh. She is passionate about her work and tries to give her 100% in whatever she does. Writing has always been her one of the greatest passions and that's she loves to blog about various topics. She is a fitness freak and yoga lover by heart so she loves to share her knowledge and ideas with the world. Apart from health and fitness, she loves to write about food, fashion, beauty, and lifestyle. She is also into Digital Marketing and has helped a lot of brands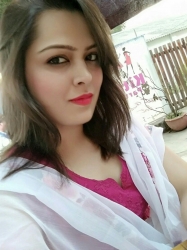 Latest posts by Priyanka Sukhwani (see all)