How to Make Pizza at Home | Italian Pizza Recipe
Easy Italian Pizza Recipe
Who doesn't love the thought of making a pizza and baking it right away? We all can have a family pizza party at least once a month, sometimes more, and while we enjoy ordering out from one of our favourite pizzerias, sometimes we love to just make our own homemade pizza. Making pizza at home is another experience in itself, it's cheaper, healthier and tastes so much better because it's fresh also better compared to the ones you get outside.
Pizza is literally food that is famous and available all around the world you can have it anywhere at any time. Pizzas can be prepared in two ways – oven and another on the stovetop to suit every household equipment.
We'll show you how to make fresh and easy Italian pizza. Load it up with delicious toppings and throw it in the smoker for a simple homemade meal that won't leave you feeling greasy or unsatisfied.
Preparation Time: 30 minutes
Cooking Time: 15 minutes
Ingredients for Italian Pizza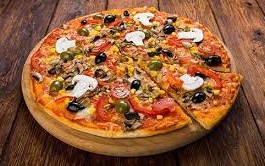 For preparing the pizza base
650 grams or 3 1/4 cups flour
2 teaspoon salt
2 tablespoons vegetable or olive oil
50 ml of warm milk
325 ml of warm water
½ teaspoon dry yeast
For Pizza Toppings
200 grams Mozzarella cheese or as needed
1 ½ Cup Mixed vegetables like capsicum, onion, tomatoes, mushrooms, olives, baby corns as per your choice
¼ to ½ teaspoon Italian herbs
½ Teaspoon Oregano
½ Teaspoon Chilli flakes
Pizza pasta sauce
Don't Miss: How to Make Red Sauce Pasta At Home
Method – How To Make Pizza at Home
Homemade dough only requires a few simple ingredients and is a lot healthier than most store bought. Combine the water, flour, yeast and salt together in a large mixing bowl, add olive oil and milk and stir it well. Gradually add the water in the little quantity, mix well to form a soft dough.
Turn the dough out on to a floured work surface and knead it for about five minutes, until it gets smooth and elastic. Transfer the dough to a clean bowl, cover it with a muslin cloth and leave to rise for about 1-2 hours, until it doubles in size.
When the dough has risen, knock it back, then knead it again for 5 minutes, roll into a ball and set aside for 30-40 minutes to rise again.
Meanwhile, Place the pizza stone in the cold oven and then preheat to its highest setting. New ovens have pizza setting so go for that.
Divide the dough into however many pizzas you're having and roll each out onto a lightly floured work surface to the size of a large dinner plate. Shape the dough into a round shape 0.5cm thick all the way to make the crust. Dust the wooden paddle with flour or with greaseproof paper and then transfer your pizza base to it.
Spread some pizza sauce and some grated cheese on the pizza base. Prepare the toppings by mixing together the sliced onion, capsicum, mushroom, tomato and start layering the veggies on the pizza base. Or add the toppings of your choice as desired.
Now the best and everybody's favourite part is to spread as much cheese as you want and sprinkle some mixed Italian herbs, oregano and chilli flakes for taste.
Slide the base from the paddle straight onto the pizza stone and bake the pizzas in the oven for 12-15 minutes at 200 degrees until the base becomes crisp and golden-brown around the edges and any cheese on the topping has melted. (Depends on the highest temperature of the oven)
And your flavoursome pizza is ready! Cut into slices and serve hot.
Also Check: Easy Step by Step Dhokla Recipe
A Secret Tip: Always season your ingredients by adding some salt on the top to enhance the taste of the pizza.
You could make this recipe in your own way and try it with more vegetables of your choice and with different choices. The flavours of fresh vegetables like tomatoes, onion, and capsicum all melt together with mozzarella cheese and topped with any flavours and sauces you prefer makes a delicious pizza that is a fun twist from the classic. It is a great way to enjoy pizza, without enjoying the extra calories that typically comes with it!
So, this was the easy step by Step Italian Pizza Recipe. We now hope that you have understood how to make an Italian Pizza at home. So, try this cool recipe this weekend and don't forget to share the taste of your pizza with us 🙂 Stay tuned with Buzzarenas for more such mouth-watering food recipes!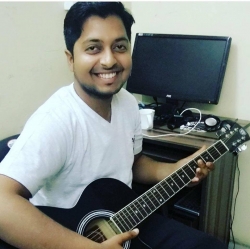 Deepak Kumar is a Teacher, Blogger and an Entrepreneur. He runs an institute and is also the co-founder of xPress Web Solutions, a web solutions company and ikoumerce which is into E-commerce. He has done Computer Science from Delhi University and has 8 years of teaching experience. He teaches various subjects upto XII class and above that also. Blogging is one of his greatest passions. He has other successful blogs in tech and education niche which has a large number of readers and have gained a lot of popularity among blog readers.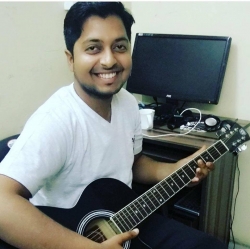 Latest posts by Deepak Kumar (see all)